With Joel Coelho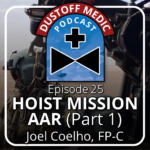 Joel Coelho joins us to discuss a mission he performed in Northern Iraq which involved hoisting several patients during active combat. Joel is a flight medic, an enlisted flight instructor, and a civilian firefighter paramedic. In this episode, Joel discusses receiving the mission, recognizing the need for additional mission equipment and crew, entering the "stack" air space above the active fight along with close air support (CAS) aircraft, and conducting the first hoist.
Key Points
As Jamie Eastman discussed back in episode 12, i

t is a critical force multiplier to build relationships with adjacent units

. In this case, conducting hoist training and setting up "speedballs" or medical push-packs is a great way to establish lines of communication that will pay dividends during complex missions.
Establishing priorities of training based on a thorough medical mission analysis by competent medical planners will enable units to perform up to the expected standard. Being too risk adverse to perform necessary training only places crews, helicopters, and casualties at risk during "real-life" operations.
Join us in two weeks for part 2 of this AAR.
Thanks for listening to the DUSTOFF Medic Podcast. If you enjoyed this episode and want to support the podcast, please share it with friends and colleagues, follow us on social media, and check out our other episodes. If you use these episodes in your training, send us a message and let us know!
Enjoy the episode!
This episode also remembers the crew of an MH-60S Knighthawk Search & Rescue helicopter who were lost at sea on Aug. 31, 2021. Specifically, Hospital Corpsman 2nd Class Sarah F. Burns, 31, from Severna Park, MD, and Hospital Corpsman 3rd Class Bailey J. Tucker, 21, from St. Louis, MO. The crew was assigned to the 'Eightballers' of Helicopter Sea Combat Squadron (HSC) 8 aboard the USS Abraham Lincoln. Fair winds and following seas.