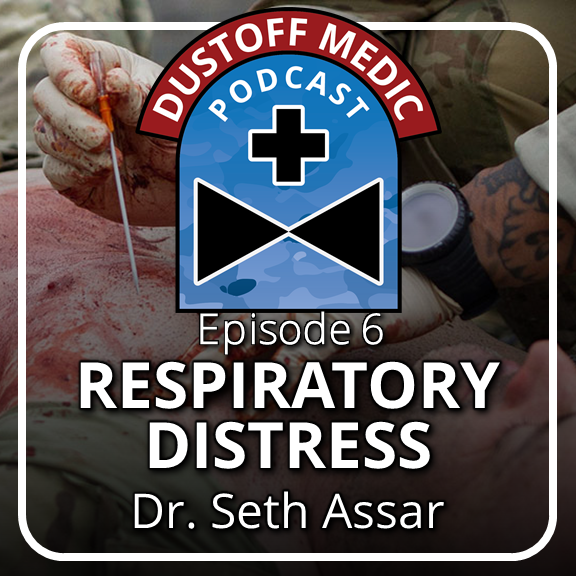 With Dr. Seth Assar
Dr. Seth Assar is a pulmonary and critical care physician and battalion surgeon for the 19th Special Forces Group. In this episode, Dr. Assar discusses the SMOG Respiratory Distress guideline. This is a wide-ranging discussion that covers many of the differential diagnoses for a patient who is having difficulty breathing. Listen closely for a use of Ketamine that you may be less familiar with.
Dr. Assar points out the inherent risks of intubation and mentions a study identifying a real risk of mortality with the procedure:
Schwartz DE, Matthay MA, Cohen NH. Death and other complications of emergency airway management in critically ill adults. A prospective investigation of 297 tracheal intubations. Anesthesiology. 1995;82(2):367-376. doi:10.1097/00000542-199502000-00007 https://pubmed.ncbi.nlm.nih.gov/7856895/
The risk is further increased in patients in hemorrhagic shock and an article in the last JSOM makes this clear. See:
Thompson P, Hudson AJ, Convertino VA, et al. Risk of Harm Associated With Using Rapid Sequence Induction Intubation and Positive Pressure Ventilation in Patients With Hemorrhagic Shock. J Spec Oper Med. 2020;20(3):97-102. https://pubmed.ncbi.nlm.nih.gov/32969011/
Finally, be on the lookout for Dr. Assar's forthcoming article in the JSOM on mechanical ventilation. If you want to use this episode as part of your Tables II & IV medical training, use the following tasks per TC 8-800.
081-833-0100 Insert an Endotracheal Tube
081-833-0008 Initiate Treatment for a Respiratory Emergency
Check out the episode below, or wherever you listen!