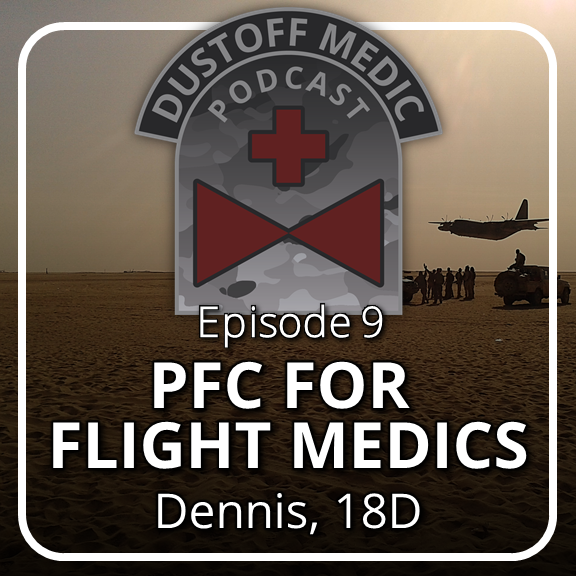 With Dennis, 18D
In this episode, Dennis from the Prolonged Field Care Podcast joins us to discuss the basics of prolonged field care on medics and their patients. 
Dennis is a Special Forces Medical Sergeant and an instructor at the Special Warfare Medical Group. In this podcast, we talk about the definition of prolonged field care, the operational considerations, and the specific considerations when picking up patients who have received care under PFC conditions.
Check out the Prolonged Field Care Working Group website.
If you want to use this episode as part of your Tables V medical training, use the following tasks per TC 8-800.
081-831-0011 Measure a Patient's Pulse 
081-833-0145 Document Medical Care: SOAP Note Format 
081-833-0156 Perform a Medical Patient Assessment 
081-831-0012 Measure a Patient's Blood Pressure 
081-833-0247 Perform a MACE Screening for Traumatic Brain Injury 
081-833-3017 Insert a Urinary Catheter 
081-833-0006 Measure a Patient's Intake and Output 
081-833-0012 Perform Wound Irrigation 
081-833-0165 Perform Patient Hygiene 
081-833-0090 Apply Local Anesthesia