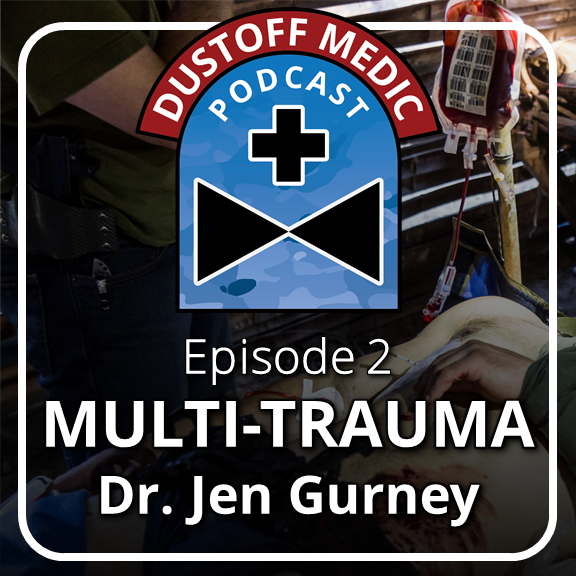 With Dr. Jennifer Gurney
In this episode, Dr. Jen Gurney, chief of the Defense Committee on Trauma (DCoT) joins us from a deployed location to talk about the SMOG Multiple Trauma guideline and management of the patient with multiple trauma. This episode runs a little longer and is packed with gems from one of the Army's top trauma surgeons.
COL Gurney discusses challenges in military pre-hospital documentation. Schauer, et al describe this at length:
Schauer SG, April MD, Naylor JF, et al. A descriptive analysis of data from the Department of Defense Joint Trauma System Prehospital Trauma Registry. US Army Med Dep J. 2017;(3-17):92-97. https://pubmed.ncbi.nlm.nih.gov/29214626/
Dr. Gurney further emphasizes the need for military-civilian partnerships to ensure medical providers maintain their skills. If your unit has an effective partnership in place for pre-hospital providers, please let us know about it at dustoffmedicpodcast.com.
Jeremitsky E, Omert L, Dunham CM, Protetch J, Rodriguez A. Harbingers of poor outcome the day after severe brain injury: hypothermia, hypoxia, and hypoperfusion. J Trauma. 2003;54(2):312-319. doi:10.1097/01.TA.0000037876.37236.D6 https://pubmed.ncbi.nlm.nih.gov/12579057/
If you want to use this episode as part of your Tables I, II, & III medical training, use the following tasks per TC 8-800.
081-833-0067 Perform a Combat Casualty Assessment
081-831-0010 Measure a Patient's Respirations
081-833-0034 Manage an Intravenous Infusion
081-835-3002 Administer Medications by IV Piggy Back
081-835-3000 Administer Blood
Check out the episode below, or wherever you listen!